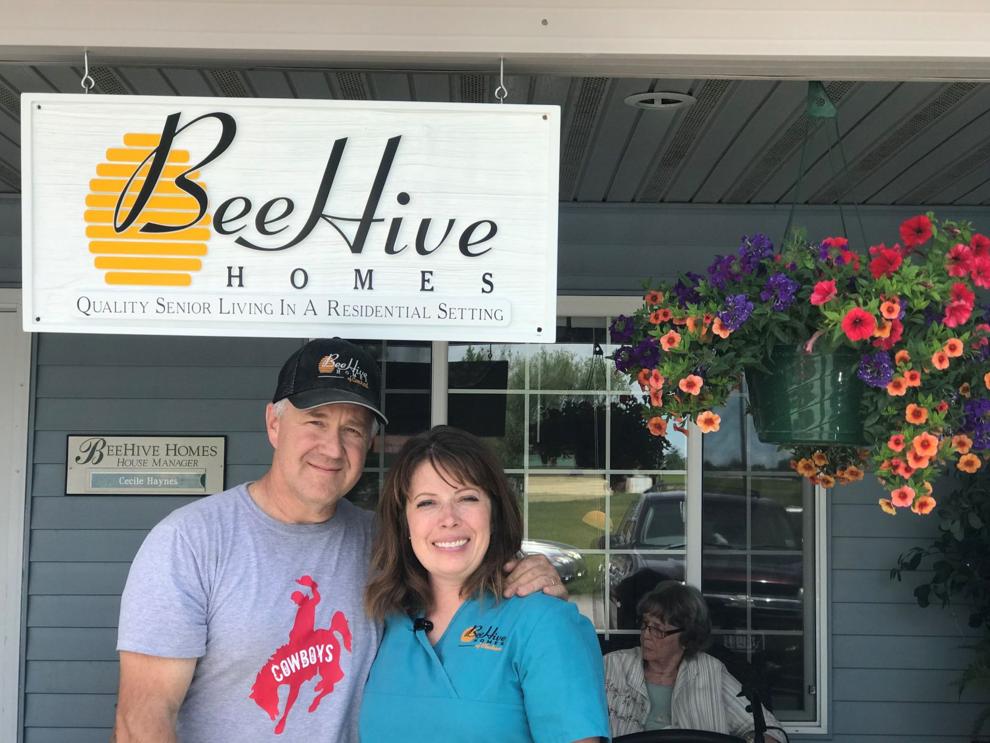 The buzz about the new owners of BeeHive Homes assisted living facilities in 3 highline communities in Montana is exciting! "The entire place has had a facelift," proud new owners, Terran and Stephanie Lohman proclaimed. The Choteau and Conrad facilities have had their bathrooms remodeled and new landscaping put in. Everything else has been freshened up with new paint, trim and cabinets.
The couple bought the business from Paul and Melonie Awtrey in October of 2018. Paul and his father Mike built the Choteau and Conrad facilities 20 years ago, as well as the location in Cut Bank. This is the Lohman's first experience with business ownership, but they each come from a strong background in healthcare. Stephanie has a nursing background including elder care, for the past 25 years. She plans to serve as both a nurse and the administrator for the 3 locations. Terran has spent the last 25 years with the Missoula Fire Department, and will run the financial and maintenance side of the operations.
The couple figured their BeeHive Homes plan would take three to five years to come to fruition. In their research, it looked like the only opportunities were in other states. "We were probably going to have to move to the Midwest, and we really didn't want to do that. We're from Florence, and we've lived in Montana so long. We love it here," said Stephanie.
Their Montana opportunity opened up late spring of 2018 and forced the Lohmans to condense their five-year plan down to a couple of months. They visited the three towns (all of which were new to them), packed up their two youngest children and moved the family to Conrad.
The Cut Bank facility has been closed for years, but will reopen in early August as a memory care unit. Because Montana law has special requirements for memory care facilities, the Cut Bank location has had fire sprinklers installed and keypad locks. Specially trained staff will provide supervision and care to the residents 24/7. Other than that, it will look much like the other BeeHive Homes. The BeeHive model is to have less than a dozen private rooms, with a few larger rooms for married couples, siblings or friends who want to room together. There's a large living room space, with a kitchen and dining room for communal living. It has a very homey welcoming feeling, like a big ranch style house.
Each BeeHive Home has an Activity Director, who plans activities and daily events geared towards the interests of the residents. Breakfast, lunch and dinner are cooked fresh every day and a dietician designs the recipes with input from home managers, who work to incorporate residents special diets and personal preferences to make meals that are healthy and delicious.
The Lohmans researched various types of assisted living concepts for a couple of years before they settled on the BeeHive Homes franchise model. BeeHive currently owns property in 20 different states, with 10 locations in Montana. That number will rise to 11 when the Cut Bank location re-opens. The franchise began in Idaho in 1987, when Twayne Walker built the first one for his own grandmother. The Lohmans were attracted to the idea of smaller, low-occupancy facilities to make each one feel like a true family home, rather than a clinical, hospital-like setting.
"Nothing beats being in your own home, we know that. But we want this to be the next best thing," said Terran.
Terren and Stephanie listed two main challenges they've faced in their first few months on the job: becoming acquainted with people in not one but three new towns, and helping people understand what assisted living offers.
"Getting to know people, that's a fun challenge," said Stephanie. "But a lot of people don't understand that assisted living bridges a gap. Some residents just need basic help with laundry and activities, some need a little more care with medication assistance and things like that, and others need a higher level of medical care or therapy."
Assisted livings are generally more affordable than skilled nursing facilities because they don't have nurses on staff 24 hours a day. BeeHive Homes has personal care assistants and daily living helpers — to give basic care, but if someone needs a physical therapist or full-time nurse to visit them at their residence, they're free to hire extra help. Most people visit between 8 a.m. and 9 p.m., there are no strict visiting hours, so friends, family members and medical professionals can visit whenever they want.
Since Choteau doesn't have public transportation we now have our own BeeHive van that is available for use in outings or resident appointments as well. We moved here with the common passion and interest in caring for the elderly. It's been fun to be welcomed by the communities we serve.
"This truly is their home, and we want to make sure everyone knows that," said Terran. "If anyone is looking for a new home for a loved one, or they're just simply curious, there's an open invitation to anyone to come by, ask questions, get a tour, and see the place for yourself."
For more information see their website https://beehivehomes.com/location/choteau/