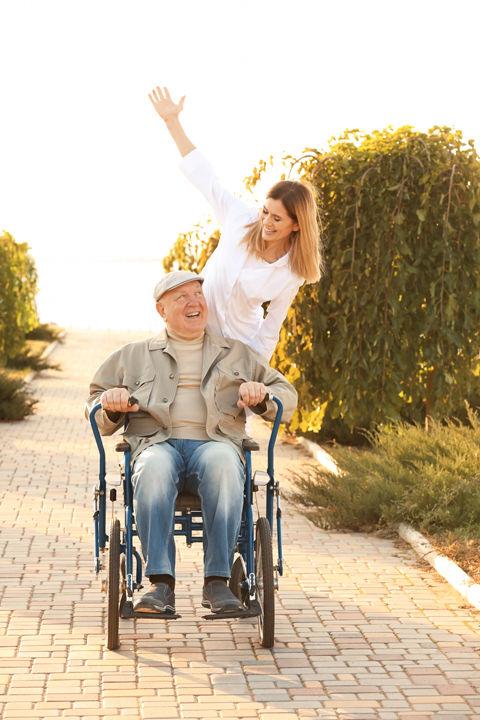 As more and more seniors are living longer and healthier lives, a solid plan for quality care is invaluable to sustain independence at home. Home health and home care are two distinct types of medical care that take place in the patient's home. The distinction lies in that 'home health' is clinical care provided by a skilled medical professional, while 'home care' refers to aid from a non-clinical caregiver.
Home-based caregiving often originates as part of a care plan following a hospital stay. These plans can take many forms so as to provide what is best for the patient's overall health and comfort. It's vital to learn about the details and differences between these two caregiver options well in advance of any serious decline in health.
HOME HEALTH
The phrase 'home health' refers to a wide range of health and social services that take place in a patient's home. These services may include one-on-one care from a registered nurse, administration of medications and injections, medical tests, monitoring of health status, wound care, physical therapy sessions, speech-language pathology services, or any number of other treatments provided by skilled medical professionals.
Home health treatments smooth the transition to home after an inpatient hospitalization, rehabilitation, or stay at a skilled nursing facility. A home health treatment plan may also be prescribed after a change in medication occurs. This is usually done to monitor side effects and ensure the effectiveness of the new medication.
Another instance where home health may be the best option is when seniors begin to exhibit an overall decline in function. In this case, a home health professional can use therapy or teach new skills so that the patient can achieve further independence.
HOME CARE
When the planned care does not require the skills of medical professionals, the term 'home care' is used. This describes the services provided by caregivers, also known as home care aides. These professionals have been trained to assist seniors with daily living, to understand the details of senior care, and to dole out doses of friendly companionship.
In contrast to home health, home care is classified as personal, or companion, care. This means that it is considered 'non-clinical' or 'unskilled'; although skill is necessary. In addition to giving care that targets the individual's specific needs, a home care worker can assist with housekeeping. This may include preparing meals, providing transportation,
cleaning the house, helping to dress and bathe, reminding about medications, paying bills, and being present for companionship - which reduces the risk of social isolation.
MAKING A CHOICE
Home care and home health are both excellent options to aid an individual in their return from the hospital. But, there's no need to commit to any one method of assistance. Care plans such as these are flexible, and are intended to be altered as medical conditions and life events change.
Often a family may choose to combine services to obtain the best possible care for their loved one. For example, home health staff can address medical concerns and provide rehabilitation or therapy treatment, while at the same time a home care aide maintains running the household and providing all other, non-clinical, assistance.
Whichever direction the patient ultimately takes, both they and their loved ones can be certain that they've done everything in their power to provide the best possible care and easiest transition. MT 55