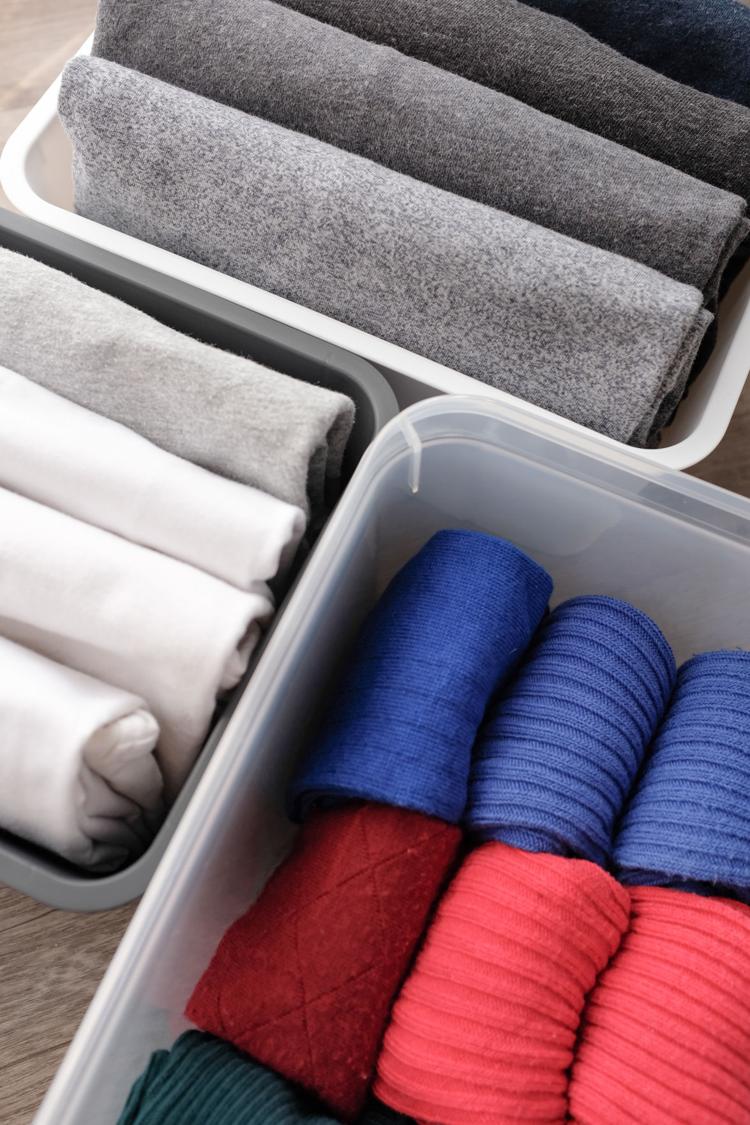 Need a flashlight to find your good velvet jeans, kitten-heeled party shoes and the vintage gold-chain belt stashed somewhere in your closet? That used to be me, too! Yes, I have read Marie Kondo's best-selling book The Life-Changing Manga of Tidying Up, and while I'm sure reducing one's wardrobe to only the things that "spark joy" works for some people, I'm not one of them. For many women age 50-plus (like myself), any paring down the closet(s) to a perfect, tidy small group of clothes and accessories does not bring happiness ... more like anxiety. Where's my stuff? My history? My memories? My choice? No one wants to be a hoarder, but getting dressed shouldn't require a GPS, either. Here's my tried-and-true fashion editor declutter guide to your closet.
1. Give the closet itself a DIY makeover. First make your closet a brighter, cheerier place. There's no need for a pricey company that designs customized racks and shelves. Just take everything out. Give the interior a good dusting and vacuum. Paint it your favorite good-mood color, such as butter yellow, peach, pale pink, apricot, powder blue — nothing too dark. Add extra lighting so there are no dark corners, either. Stick on battery-powered LED lights (check Amazon.com) that work with a touch-tap to turn on and off ... no electrician necessary. The latter are life changers, trust me.
2. Figure out why there's a jam. Fifty-plus is a time of change and transition that affects what you wear and keep. Have you downsized from a house with storage to a condo short on closets? Do your clothes and accessories not fit your current (be honest!) body, life or style? Are you widowed or divorced and dating again? Has your social life amped up with volunteer work, clubs, committees or back-to-school classes? Did you move from one climate to another, from an office to working at home, from an urban lifestyle to a suburban one? Often, we hate to let go of stuff because you never know what's around the corner. Adjusting to an accelerated lifestyle or a more laid-back one is a definite closet U-turn. Check these questions when you're deciding what to save, donate or toss.
3. Know your keepers. Some clothes are allies. They always make you feel fashionable, fresh, cool, sexy and upbeat. Be practical (see No. 2), but respect your style cravings — which by 50 are part of our DNA. Some of us will always love a little sizzle (sequins, sparkly knits, metallic shoes), a hint of nostalgia (bohemian blouses, layers of beads, fringed bags, a denim shirt), comfort (knits, tunics, ballet flats, wide-leg cropped pants), edge (leather biker jackets, studded booties, faux-leather leggings) or sophistication (tailored dresses, blazers, heels, ladylike silk blouses). Style is not about age, size or trends. It's all about personal choice, and your closet should reflect that.
4. Donate or toss sensibly. If yes/no/maybe is too tough, try two piles. Group by what you wear and what you never wear, and then edit the wear-it pile down further by what fits and what really doesn't fit (style, life or body). Say buh-bye to: high heels you can't walk in and anything frayed, torn, stained, pilled, stiff, way too big, saggy, clingy or too short for you now. Don't forget to donate old eyeglass and sunglass frames. When it comes to designer label or logo anything (vintage or newish), try selling at a local consignment shop or an online vintage retailer. You just might get something back. Otherwise, give your goodies to a women's shelter or nonprofit. Most women don't wear 50 percent of what's in their closet.
5. Add the right closet organizers. If you can't see it, you won't wear it. And why let space guzzlers like big down puffers (during summer) and shoe boxes take up real estate? Every woman needs five things easily found on Amazon or at Bed Bath & Beyond or the Container Store: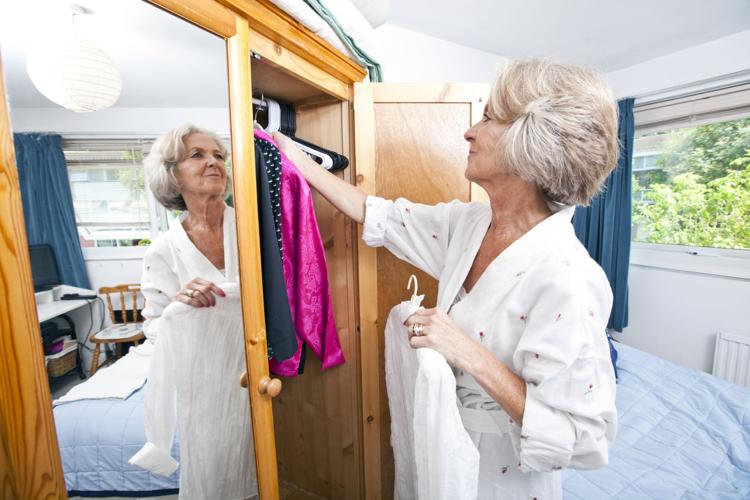 Skinny flocked hangers. Get enough to replace all of your old wooden, plastic, wire and metal mismatched ones. Stick to black, beige or gray. Skinnies take up half the space, keep clothes shapely, prevent slipping, and give your closet a pulled-together, neater look. Get the matching pant/skirt clips for multitasking.
Compression bags. Space-saving, ziplock vacuum bags work by squeezing out all the extra air so no mildew or mold can get in. Get puffers, outdoor jackets, bulky sweaters and strictly summer clothes out of sight and make room. Slip the slim cases under the bed, armoire or dresser, or place on a top shelf in the closet.
Shoe shelves or a hanging shoe bag. Ditch the original shoe boxes. Get either a two-, three- or four-shelf unit that sits on the floor of your closet, or an over-the door (or rod) hanging shoe bag.
A cloth garment bag. Get rid of plastic bags from the dry cleaner. They trap moisture, turn clothes dingy or yellow, and make leather toughen and crack. Store fragile items you don't wear often — like dressy dresses — in a cloth garment bag.
A rod or hooks for the wall or inside closet door. Hang scarves, belts and necklaces for visibility and access.
6. Organize your closet by color. Pull all your black things together, all your pink things together, and so on. Don't obsess about shade, fabric or season. Within each color group there will be a range of shades from light to dark, differences in fabric and texture, plain and fancy, solids and prints, casual and dressy, tailored and relaxed. Just by sticking to one color group at a time for a total outfit gives you a stylish, tonal look in two minutes. Fold and stack sweaters, knits and T-shirts by color — belts, shoes and bags, too. Hang like items together within each color group instead of higgledy-piggledy. Put all jackets in a cluster, then all dresses, pants, skirts and shirts, for example, to make things even speedier.
7. Deal with the shoe situation. We love shoe shopping, and it's where women tend to hoard. Toss any shoe that hurts (stilettos, too small, too stiff), is beyond repair, has an outdated toe box (usually an extreme — too boxy, too pointy, too elongated), or you're just "over." Whether you store shoes in a hanging bag or on shoe shelves, arrange by color with each pair toe to heel or heels out. Being able to spot heel height and shape immediately — whether closed-back kitten or block heel, a slingback, wedge or mule — makes grabbing the right pair the first time simple. Keep sneakers in a basket. Stuff tall boots with premade boot shapers (or use old rolled up magazines like I do), and use tissue paper in the toes to preserve shape or lavender-scented shoe sachets for sweet-smelling boots in storage season. Lining them up on the floor against a wall under your hanging clothes is fine if you're stuck for space. Remember to air out shoes and boots that are waterlogged or have been exposed to pungent odors before storing in the closet. Clean dirty soles with a soft cloth or stiff brush after each wearing.
8. Check the rod heights. Do they make sense now? You may need to adjust them. You shouldn't need a stepladder to get anything down. If you wear a lot of dresses and pants, is the rod high enough so they don't drag on the floor — but not too high? Hang pants by the waist or hem, as folding them leaves a dent and takes up space. The exception is, of course, jeans, which can be folded and stacked on a shelf (like stores do) or slipped onto a slim multirod hanger or on individual slim hangers side by side. Store jeans according to wash color (light to dark, as in No. 6); then by fit (skinnies to straight to wide-leg); and last, by length (cropped to long).
9. Protect but don't overdo it. Get cedar blocks and lavender sachets. They are not a myth and do prevent moths from nibbling holes in cashmere and wool garments. Resist storing bags within bags — with the exception of a tote with matching clutch. Keep everything visible. Ditch dust bags for your leather bags. Hobo bags and totes can be stored flat and stacked on a shelf or hung on a peg or hook. Stuff structured satchels and crossbody and shoulder bags with a little tissue paper to keep the shape (or use old T-shirts as I do).
For more beauty and style tips for women age 50-plus, check out The Woman's Wakeup: How to Shake Up Your Looks, Life, and Love After 50 by Lois Joy Johnson and AARP's Beauty & Style issue.