The Woodlands, a neighborhood of independent-living condominiums for seniors over 55, will be the first development of its kindin Montana. Currently under construction in Kalispell, this new active adult community will consist of four separate resident buildings surrounding a common recreation area.
Curtis Lund, the owner and developer of The Woodlands, has a long history of involvement within the Kalispell community. He spent four years working with CASA (Court Appointed Special Advocates®), before joining the local hospital board for eight years and serving as CEO for one year.
"Over the last 24 years I've been very involved in the community here," says Lund. "And one of the things that I became familiar with is what kinds of living conditions some people have. So I started thinking about solving some of the problems, and one thing led to another, and I decided that there was a need for adequate housing for people over 55."
A market research study supported Lund's intuition, confirming that the Flathead Valley has more citizens over age 55 than average. Furthermore, the 55-and-up age group is growing at an annual rate of 3%, while those over 65 are increasing at 8%. With these numbers in mind, The Woodlands will contain 144 units (over 250 residents) by the time of its completion.
"My experience living in a condominium was that my floor was my neighborhood, and if they didn't see me for a few days they would knock on my door and say, 'Are you okay?' and I think that's what's going to happen here also," says Lund.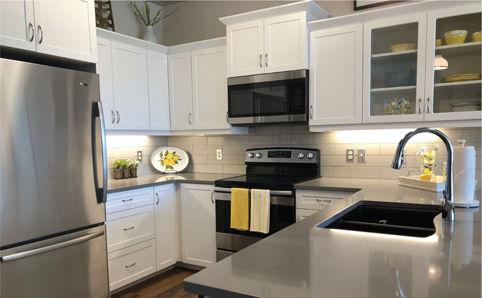 This neighborhood setting forms a natural sense of community among residents, while the condominium format allows for a focus on independent, rather than assisted, living. However, assistance is always at hand whenever needed with 24/7 on-site staff, security, and management.
The Woodlands is an ideal choice for couples who may no longer be able to take care of their own home due to age or health, but who have a desire to remain independent. It's also a wise decision for those thinking ahead to plan for the future, or seniors who are seeking more social connections in their lives.
"One of the barriers for recovery is living alone. And so I think that living in a community is very important for a person's full physical and mental The Woodlands – Kalispell, Montana health," says Lund.
To help develop community at The Woodlands, a manager will be in on-hand to lead the formation of committees tailored to the needs and interests of the residents. For example, a library committee may help residents downsize their book collections, or a caring committee can provide relief for residents who are also caregivers.
Several special features of The Woodlands are based on Lund's previous experience working with condominiums. For one, the entire ground level is reserved for secure, heated parking with an elevator connecting to the lobby. This keeps residents safe from ice or other hazards, but also puts the first floor level at fifteen feet above ground. The elevated height adds both security and more scenic views to each unit.
The site of The Woodlands is centrally located, with traffic lights at the entrances for safe entry. Along the northern side of the property is a large commercial building, which provides a convenient sound barrier against any traffic noise. The land on the eastern boundary currently has a large natural pond, and is also partially owned by Lund. This portion will developed into a park, with winding walking paths and a dedication to maintaining green space. The rapidly flowing Spring Creek runs along on the southern border, attracting local wildlife to the site.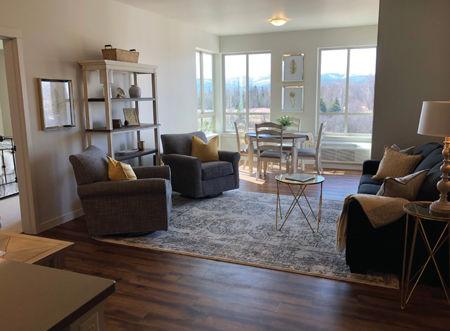 Each two or three bedroom unit ranges from 1,088 to 1,474 square feet, has a private deck, and features an expanded living area with a sun room surrounded on three sides by large windows. There are 36 units in each of the four buildings, which are being constructed in phases with the first being ready for move-in on June 1, 2020.
In October 2020, a large commons area will be open for residents to enjoy. The 7,000-square-foot building will house a theater, an expansive library with fireplace, a fitness room, a coffee shop, and a sitting gallery featuring large windows with expansive views of the stunning Flathead scenery. The Woodlands sales office will also relocate to the commons from their current location in downtown Kalispell. The remaining three resident buildings will be completed in May 2021, May
2022, and October 2022. At this time, 80 of the 144 units have been pre-sold and further reservations are being accepted for $1,000 down.
The Woodlands can be reached at (406) 300-0444 for more information, or to arrange a tour.