BILLINGS
Alive After 5
June 1-Aug. 31
The annual outdoor music series happens 5 to 8 p.m. at a different venue every week. Each evening combines live music, adult beverages, fresh food and favorite downtown locations such as restaurants, breweries and cultural venues. Call (406) 294-5060 or visit Downtownbillings.com.
ArtWalk - Downtown Billings
June 1, Aug. 3, Oct. 5, Dec. 7
Many fine arts and crafts offered for sale during the Downtown Billings Alliance ArtWalk. Host sites include galleries, art studios, businesses, a downtown Billings church, nonprofit entities, restaurants and other venues who value the creative spirit that thrives in downtown Billings. ArtWalk is "weather-resistant." Visit Downtownbillings.com.
SpringFest at Moss Mansion
June 2
This juried art festival features handicrafts and art by regional artists, antique booths, musical entertainment and a wide variety of refreshments. Pancake breakfast, artist demonstrations and lively musical acts are on the grounds of Moss Mansion. Call (406) 256-5100 or visit Mossmansion.com.
Montana Renaissance Festival
June 2-3
Revel in the atmosphere of a 16th Century European Country Festival at ZooMontana, 2100 S. Shiloh Rd. Explore the bustling marketplace, attend a royal wedding, interact with costumed characters and enjoy full-contact armored jousting tournaments. Storytellers, musicians, jousters and villagers welcome all while the air fills with scents of foods and ale from the Renaissance period. It happens 10 a.m. to 6 p.m. Saturday and 10 a.m. to 4 p.m. Sunday. Visit Montanarenfest.com.
Strawberry Festival
June 9
Held 8 a.m. to 4 p.m. in the streets of downtown Billings, the long-cherished community event opens the summer season with a rich diversity in arts and crafts, interactive children's area, fresh produce and strawberries, food-truck fare, live street entertainment and a 60-foot strawberry shortcake. Call (406) 294-5060 or visit Downtownbillings.com.
Festival of Cultures
June 10
From 10 a.m. to 5 p.m. on the campus of Rocky Mountain College, this free event lets you celebrate diversity and culture as thousands sing, dance and sample ethnic delicacies during this public event. Enjoy children's activities, ethnic crafts, food and drink. Contact (406) 657-1042 or peacestudies@rocky.edu.
Heart & Sole Race
June 16
The 39th Annual Heart & Soul Race features people of all ages and abilities. Choose from 5K, 10K or 2-Mile Health Walk; all start at St. Vincent Healthcare and are a fundraiser for the YMCA and Billings TrailNet. (406) 254-7426, Heartandsolerace.org.
Montana Active Life Festival
June 16
Held before and after the Heart & Sole Race, this festival happens 8-11 a.m. at Dehler Park, home of the Billings Mustangs. This free healthy lifestyle event features live music, more than 40 interactive booths, kids' events and family fun. (406) 254-7426, Heartandsolerace.org.
Symphony in the Park
June 24
Live, symphonic music comes to Pioneer Park for a relaxing evening while you sit on your blanket or lawn chair enjoying a picnic from food vendors. Take in the 4 p.m. Instrument Petting Zoo, 5 p.m. Billings Community Band Concert, 6:45 p.m. Young Conductors' Contest and the Billings Symphony Orchestra Concert at 7 p.m. Reserved parking ($5) and reserved seating ($10) are available by calling (406) 252-3610 or visit Billingssymphony.org.
Summer Christmas
Sept. 14-16
For three days there will be 70-plus vendors with crafts, antiques, collectibles, small businesses and much more to fill your holiday shopping needs. Free admission; Shrine Auditorium, 1125 Broadwater Ave.; Friday-Saturday 10 a.m.–6 p.m., and Sunday 10 a.m.–3 p.m.  Call (406) 545-9711.
Summerfair
July 13-15
Yellowstone Art Museum hosts the region's largest arts and crafts festival featuring some of the best artisans, craftspeople and entertainers in the area. More than 100 artists, community groups and food vendors are at Veterans Park, 13th Street West and Poly Drive. This year, the weekend event is open Friday night, 4–9 p.m. with live music by Mojo Cats at 5 p.m.; Saturday hours are 9 a.m.-5 p.m.; Sunday hours are 10 a.m.–4 p.m. Admission is $3 for adults, free for children ages 12 and younger. Visit Artmuseum.org.
Big Sky State Games Opening Ceremonies
July 20
The Big Sky State Games Opening Ceremonies will set the 33rd annual games in motion on Friday, July 20, at Wendy's Field at Daylis Stadium. Gates open at 5:30 p.m. to the pre-games festival featuring interactive booths, climbing wall, obstacle course, food trucks, music, interactive booths and souvenirs.
At 6 p.m., the 5th Annual Soaked fun run/walk first wave begins in and around Pioneer Park. Billings Fire Department fire hoses, sprinklers, foam machine, two slip 'n slides and loads of water are the main attraction before a lap around the Daylis track. At 7:30 p.m. the Parade of Athletes begins with each sport represented, as well as the parade marshalls and State Games Character Counts Scholarship winners. A giveaway of 20 $100 bills, entertainment, torch lighting by an Olympic athlete and the Montana Mile (Montana's fastest male and female milers) complete the schedule of events. Athletes are admitted with their Opening Ceremonies ticket. Visit bigskygames.org for more details.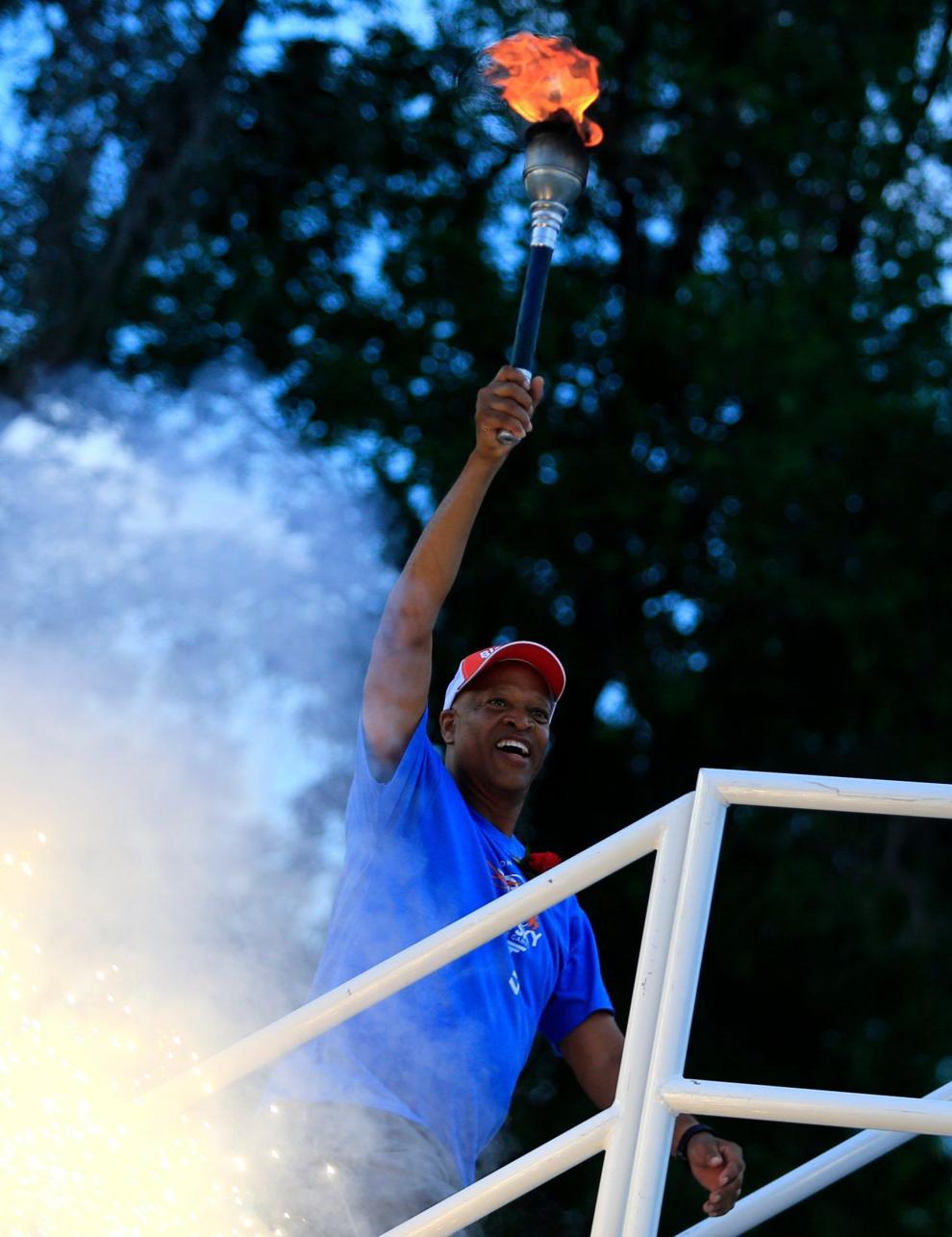 Magic City Blues
Aug. 2-4
Bring your ID for this 18-and older Montana Urban Music Festival happening on the 2500 block of Montana Avenue with gates opening each day at 5 p.m. See featured acts at Magiccityblues.com.
MontanaFair
Aug. 10-18
MontanaFair is an agricultural celebration in the historic tradition of fairs. Held at MetraPark, the 9-day celebration has livestock, arts and crafts, a carnival and food. Stages provide entertainment that can include music, comedy, hypnosis, kids' entertainment and variety acts. There are competitive events, entertainment and a PRCA rodeo event. Night shows feature internationally known artists. Visit Montanafair.com.
CROW AGENCY
Little Bighorn Reenactment
June 22-24
Real Bird's Battle of Little Bighorn Reenactment happens 1-3 p.m. each day, with the Real Bird family showing troopers and braves as they rush through the Little Bighorn River, just as they did 140 years ago. The battle is held at Garryowen, a portion of the Sioux camp where soldiers are believed to have attacked the village. Visit Littlebighornreenactment.com.
Crow Fair
Aug. 15-20
Crow Fair attracts more than 50,000 spectators and participants from the around the world. Celebration features parades, a four-day powwow, a rodeo and horse races. The largest Native American event in Montana has one of the biggest powwows in the country and is held by the Apsáalooke people of the Crow Indian Reservation just South of Hardin. Crazycrow.com
GLENDIVE
Buzzard Day
June 9
Celebrate the annual return of the turkey vulture at this family event at Makoshika State Park featuring the 10K, 5kK, fun run, various entertainment, food and fun for all ages. Visit Stateparks.mt.gov/makoshika or call (406) 377-6256.
HUNTLEY PROJECT
Threshing Bee
Aug. 18-19
The South Central Montana Antique Tractor and Machinery Association sponsors this weekend of steam- and gas-threshing, and events for all ages. There's static engine displays, plowing, hay bailing, binding, sawmill, blacksmith shop, tractor pull, parade, arts/crafts, food concessions and more. Admission is $5 per person, ages 12 and older. Antiquetractorclub.org.
LAUREL
Fourth of July Celebration
July 4
Laurel entertains more than 30,000 people, starting at the 6-11 a.m. pancake breakfast at Fireman's Park, followed by The Chief Joseph Run that begins at Thomson Park with races set for 2, 4 and 8 miles. A Kiddies Parade begins at 10 a.m. at Western Security Bank and ends at Firefighter's Memorial. The Grand Parade is at 11 a.m. A Food and Craft Fair begins at 9 a.m. and ends at 9 p.m. As soon as it is dark, one of Montana's largest fireworks display takes over. Laurelmontana.org
POMPEYS PILLAR
Clark Day
July 25
Visit this historic sandstone pillar on July 25 the same date Capt. William Clark signed the monument during his travel down the Yellowstone River. Learn the pillar's Native American heritage with presentations. Sponsored jointly by the Bureau of Land Management and the Friends of Pompeys Pillar. Call (406) 969-5380 or visit Pompeyspillar.org.