Those looking for a wild west experience hit the jackpot with the Charlie Russell Chew-Choo, which includes a crew of masked bandits up to no good, scenic rolling hillsides filled with wildlife and an ample slab of prime rib.
The chew is for the coursed meal. The choo is because it all happens aboard a train.
The track starts on the outskirts of Lewistown, which is nestled between the mountains and prairies in central Montana. The train chugs along ranches and even through a tunnel on its way to Denton. It then makes its way back to the northwest Lewistown area on the spur track, which was built in about 1912 as a connection between the town and Great Falls. In all, it's a 50-mile trek.
And don't forget the saloon girls. 
Food Networks deemed Charlie Russell Chew-Choo one of the craziest restaurants in America. 
Connie Fry, sometimes wait staff on the train and executive director of the Lewistown Area Chamber of Commerce, says a rider would have to try to have a sour time aboard. 
"If you don't have fun here - you don't want to," she said. "You chose that, because we have some great entertainment."
"Mostly people just want a new experience," Fry added.
Trip Advisor lists the Charlie Russell Chew-Choo as the No. 1 thing to do in Lewistown. Fry said many participants take part during the area's annual events like the chokecherry festival on Sept. 9 and the cowboy poetry gathering weekend in August. 
The train ride lasts an average of four hours. Lively musicians entertain and instigate during the venture. There is also some narration about the area and namesake Charlie Russell himself. Meanwhile, wildlife such as antelope, eagles and coyote can be seen from the five rail cars. 
On the way back, a visit from the Salt Creek Gang is imminent. 
Although they are train robbers, they're swell folks, Fry said, and even take pictures with the riders. 
"We're known as being a way-out-there restaurant," she said. "It is fun."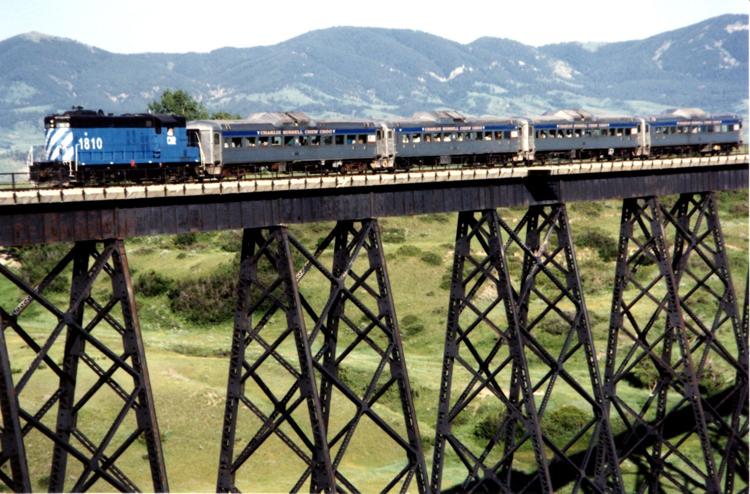 The majority of participants come from Montana, but Fry says she's met visitors from places such as Germany, Japan and Australia. 
"You meet so many different people," she said. "It's a cool thing."
The Chew-Choo started in the late 1990s as a way to bring more visitors to the area. It was a hit. 
"It's been very popular," Fry said. 
The season starts with a Mother's Day trip. Fry encourages interested parties to book ahead, as many of the summer excursions sell out. Each trainload can accommodate about 240 passengers. 
Tickets are $100 per adult. VIP tickets are $135 each and include priority boarding, preferred seating, a drink with dinner and a T-shirt. 
For children aged 2 to 12, admittance is $50 each or $70 for VIP. 
Tickets are available from the Chamber at 406-535-5436.