In Montana in the spring and summer, true joy for many includes outdoors fishing.
Once lunch and fishing gear has been packed, remember to bring dry clothes (in case you get wet), a coat, hat, sunscreen and insect repellent.
Below are a handful of spots those who fish must try out when coming to Montana.
Bighorn River
The Bighorn is one of the world's most famous rivers for trout fishermen. It is truly a blue-ribbon trout fishery. 
The Montana FWP 2016 Annual Fishing Newsletter states that since 2005 angling pressure has steadily increased on the river. But, population estimates near Three Mile Access resulted in 4,504 brown and rainbow trout of all sizes per mile. For the lower river near Mallard's Landing Fishing Access Site, brown and rainbow estimates were 924 trout of all sizes per mile. The Mallard's Landing Access is below the Bighorn Fishing Access and sees considerable less traffic from fishermen compared to the main 13-mile stretch from the Afterbay to Bighorn FAS.
While there is a very small portion, from the Afterbay Dam to the cable 600 feet downstream, where anglers may use bait on the main 13-mile stretch of the river, artificial lures only are allowed from the cable 600 feet below the Afterbay Dam to Bighorn FAS. Duane Schreiner, owner of Bighorn Fly and Tackle Shop in Fort Smith, said anglers should be aware that they cannot use motors on their boat in the 13-mile section. 
Anglers can be found throwing Rapalas, Blue Fox, Thomas and other lures from both shore and drift boat on the river, but a majority of those who fish the Bighorn are tossing flies.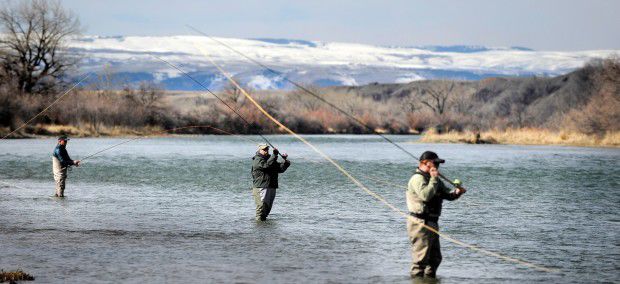 Schreiner explained that those who fly fish on the river and practice catch and release can, "typically on a good day, you can catch 15 to 20 fish and upwards from there on out. But on freestone streams, a good day is five fish. You can always count on the Bighorn.
"I always say that it is one of the top fisheries in the lower 48 states and it consistently produces consistently bigger fish." 
One of the reasons Schreiner said the river fishes so well is because it is a tailwater, with water feeding it from a dam on Bighorn Lake. 
"Essentially, the Bighorn is nothing more than a big spring creek. It is essentially a spring creek. It is a tailwater fishery," he said. "A tailwater fishery is anything that is essentially produced by the flow out of a dam. So anyway, because essentially we are backed up by a dam and are a tailwater fishery, out water temperatures stay more constant and the flows typically stay more constant."
Some anglers complain about having to clean their line on the river, but it is worth it considering the amount of action one's rod has from fish striking an angler's presentation. 
"On a tailwater fishery, you'll get the temperatures being more consistent as well as the flows," said Schreiner. "It is the optimum production for insects. A lot of people complain about the grass we have in the Bighorn. I tell people to grin and bear it. Without the grass, you don't have the insects and without the insects, you don't have the high number of trout." 
And for people who don't know how to fly fish, Schreiner said all one has to be able to do is cast out 15 to 20 feet and they'll be able to get into the fish, which he said average 14 to 16 inches for browns and rainbows with the catch averaging a 50-50 split. 
"The Bighorn is a great place to learn how to fly fish, because it is forgiving and most of the fishing is done via a drift boat. As long as they can cast out," he said.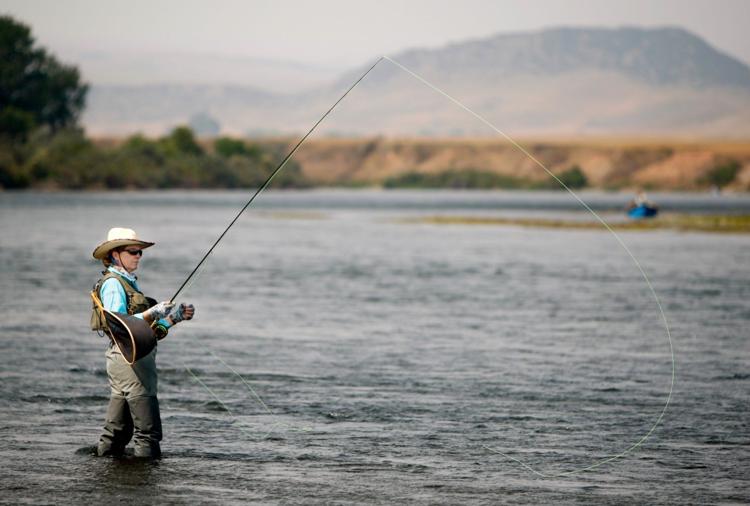 Stillwater River
Chris Fleck, owner of Stillwater Anglers in Columbus, loves the Stillwater River.
"It's definitely a good trout fishery. There are pretty good fish numbers in there," Fleck said. 
Beloved by anglers for its both sleek and fast-moving cold waters and surrounding Beartooth country beauty, the river is a tributary of the Yellowstone. 
Fleck said most trout run in the eight- to 12-inch range, with the population trending a little heavier toward rainbows. A 15- to 16-inch trout on the river "is a pretty-good sized fish, but there are certainly bigger fish than that."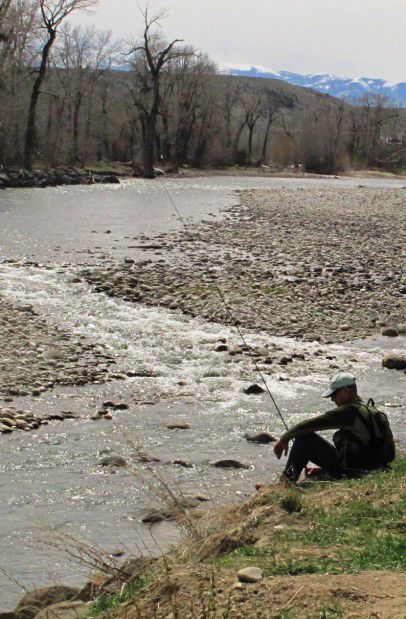 There are also whitefish in the river and Fleck said some people target them for their taste when smoked. 
There are nine listed Fishing Access Sites in a 2013 Montana's Fishing Access Sites FWP publication. Depending on the time of year, weather and water levels, there are also 45 miles of floatable river to the the confluence with the Yellowstone said Fleck.
"It's a classic freestone river and has all types of different features," said Fleck. "It has ripples, runs, pocket water and pools and so forth. It has all the different type of water features one can fish. You may be using stimulators and attractors and searching the water. There may be a hatch and you try and match what is coming off.
"It's a beautiful river, particularly to float. You can access so much water. Sometimes when you are wade fishing, you can run out of fishable water," Fleck said.
There are plenty of large boulders and rocks that create spots for fish to hide. Fishermen need to be respectful of them, along with the fast water. Fleck said fishermen should be sure to have a "good pair of wading shoes or wading boots."
Yellowstone River, Columbus
What makes fishing in the Columbus and Absarokee area nice is that if an angler is not having a good day on the Stillwater, they can drive a short distance to the Yellowstone. 
Anglers have the potential to catch larger fish in the Yellowstone than the Stillwater and "there is always the chance of a good-size fish," said Fleck.
"It is very similar to the Stillwater," Fleck said of the stretch of river. "In the spring, there is good dry-fly fishing. There are caddis and March Brown before runoff. You can fish a lot of big dries and hopper patterns in the summertime. It's very typical to fish a big dry, like a hopper, and a nymph underneath it. A dry-dropper we call it."
Fishermen are able to fish streamers well into the fall, Fleck added.
Fishermen can walk the river and fish at fishing accesses, or where given landowner permission, and will have opportunity to catch fish. But for your best luck, Fleck recommends fishing from a boat. 
"It's a little more difficult to wade fish it. You can go to the access sites and wade fish it, but at some point up or down you will run out of water. You can't just ford the Yellowstone anywhere," said Fleck. "The best way to fish the Yellowstone is by floating it. You can cherry pick your spots, stop and wade fish it and work some spots while floating a section." 
While many of the anglers fishing the Stillwater and Yellowstone will be casting flies, spin fishermen can also get in on the fun. Those who wish to harvest fish to take home and eat should be aware that on the Stillwater River the combined trout limit is only one fish more than 14 inches.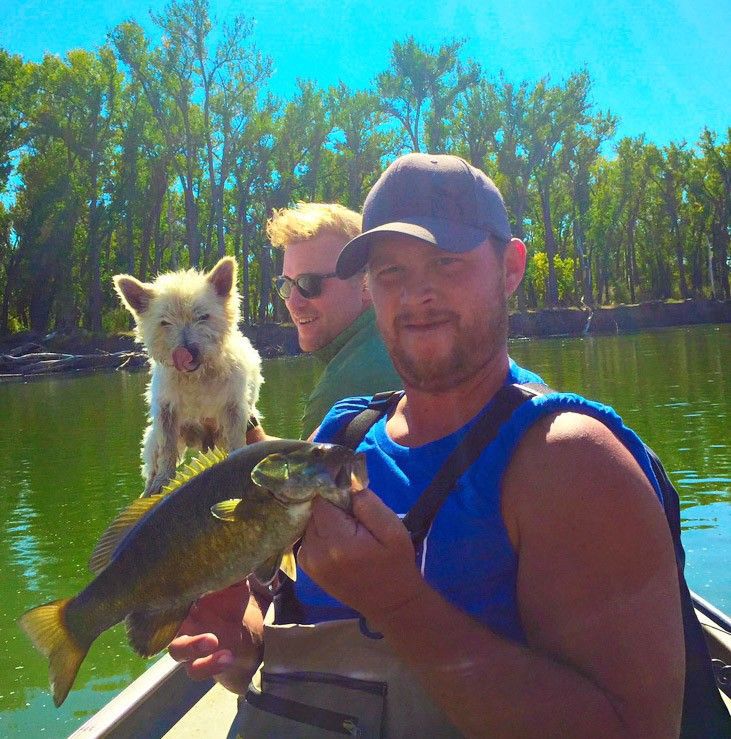 Lower Yellowstone River
The lower Yellowstone River offers plenty of opportunities for anglers to hook a fish. Novice to expert fishermen can all have a good time, as there are plenty of game and non-game species to catch. Fishing tactics can be as simple or tactical as one desires.
Those wishing to catch fish and enjoy a lazy day, can tie on a hook and sinker, thread a worm through the hook, cast out and wait for a fish to strike. While it may or may not be a game fish, there is still a good time to be had while reeling in a big catch. Kids will enjoy catching fish whatever the species. And the more, the better. 
For those who wish to target game fish such as catfish, sauger, smallmouth bass and walleye, they may catch some with the above methods but may use other baits as well. For example, catfish may bite shrimp, cut bait or minnows as well as a worm. And at times, they may prefer one bait over the other and larger fish may hone in on cut bait.
For sauger, smallmouth and walleye, many fishermen will throw crankbaits or use jigs.
The 2015 Montana FWP Annual Fishing Newsletter notes in "Other Yellowstone River Fishing Opportunities" that water clarity is critical to success for walleye, sauger and smallmouth bass fishermen. The spring fishing window can be shortened due to runoff for these sight-feeding species. The publication goes on to note that "being less dependent on water clarity to sight feed, channel catfish can be targeted with success almost anytime during the open-water season." It is stated that channel catfish are the "most abundant sport fish" in the system, with six- to eight-pound catfish normal and 10- to 15-pounders "observed in surveys regularly." 
Casey Schantz, manager of Red Rock Sporting Goods in Miles City, said early-season success depends on the weather and runoff on the river in the Miles City area. While it depends on the weather, generally runoff can start in mid May and run through June. Schantz noted that last year, spring fishing was good, but it varies with the year. 
Schantz said generally fall fishing is best beginning in mid to late August on the lower river. That is when the water temps start to cool down and the clarity improves. Fishermen can target three to 10 feet of water in the fall for walleye, sauger and smallmouth using a jig and a minnow or crankbaits he said. For catfish in the fall, one should center around five to ten feet of water and fish the bottom using a crawler, cut bait, minnow or shrimp. 
While the population as one travels east on the Yellowstone is obviously less than in the Billings area, and while other fishing holes in the state receive more pressure, Schantz acknowledged "there are lots of people" utilizing the river in the Miles City vicinity. 
"There are getting to be lots of boats from here to Glendive, to Sidney," Schantz said. "They are using the river from Hysham all the way to Sidney."
With that being said, Schantz said at times fishing success can vary.
"It is getting slimmer with more people," he said. "There are fewer fish. It can be tough at times, especially if they are just starting out and new at it. It will take them some time to figure it out."
Eddie White of TeamMinnowBucket.com said in the Huntley area that May tends to "bring high water, so catfishing is your best option." Anglers should look for backwater or flooded feeder creeks for best results he said. When the water starts to clear in June, minnows worms and assorted plastics work well for smallmouth. Walleye and sauger are in the deep holes and anglers usually present a jig and a minnow or crankbait. The July bite normally slows as the catfish spawn, White said, but bass fishing remains good. Walleye and sauger fishing tends to be slow until evening hours. In August, the catfish bite should perk up and bass will strike jigs or crankbaits White said. September can offer fun smallmouth fishing with water temperatures dropping. Anglers can catch plenty of smallmouth and walleye and sauger move in shallower White explained.
Another spot to try in Southeast Montana would be the Tongue River, where anglers can search for catfish, sauger, smallmouth, walleye and northern pike. Schantz said it is basically the same formula, with clean water being key for the species, except catfish. He said the Twelve Mile Dam fishing access is a good spot for public access. Other than that, fishermen need permission from a land owner for access. Schantz said the river is generally "too shallow to run a boat."